Remember magazines? The ancient way we used to fap to porn? You'd buy a bondage porn mag for $12 and hope for like a dozen (maybe black & white) photos that really hit the spot. Maybe a couple of stories. The rest of the pics had woman tied up and gagged, for sure, but they didn't zero in perfectly on your specific tastes. Oh, the trials of being kinky before the rise of the internet! Above, here's a page from Bondage Life 42, 1992.
But those pages (that would stick together forever if you ever shot off an ill-aimed load) were where I got my start. Back in my college days I had a girlfriend that was game to allow me to photograph her all tied up and send the pics off for publication. This was Becca, and her tied-up adventures adorned many a magazine from Harmony Concepts.
I remember shooting this set. This is her parents' bedroom, and they were off on vacation somewhere. I think they would have been a little angry about us using their bed as a bondage photo studio for a kinky porn mag. We used their house and my folks' house quite a bit for our shots. We both still lived at home, and even a cheapo motel is pricey for college students.
So, fast forward 9 years from this set (and 11 from my first photoset published in 1990) and I have a bondage movie being reviewed favorably in Hustler's Taboo magazine. I have been making movies for Harmony Concepts since 1998, and my own company, Centaur Celluloid, since 1999. For House Hostages, I had hired two local models and had my new girlfriend, the too-damn-hot-to-be-my-girlfriend Natasha Flade. I was now actually being noticed by the fetish community at large, and I felt like I had "made" it. I was starting to be "big time." Whatever that meant in the small pool damsel bondage porn. I was proud of that VHS movie, and I still am.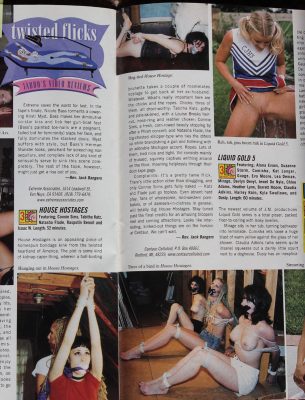 Pay no attention to the girl pissing in the upper right. That's a shot from Liquid Gold 3.
Not mine.